Our Story
We are an Organic Family Estate Vineyard & Winery with a philosophy to make wines that showcase the terroir, delivered directly to your table.
Our vineyard was built from the ashes of the 2003 Okanagan Wildfires. We use our unique terroir to our advantage, creating our premium wine. We are in the heart of Okanagan Mountain Park. The Pinot Noir and Rose of Pinot Noir wines are exclusively made from our Estate grown Organic Pinot Noir grapes. Our Pinot Noir vintages gracefully mature over 4 years of minimal intervention winemaking from our vines to your glass. We age our wines in only French oak barrels imported directly from select cooperages.
Scorched Earth Winery distinguishes itself by exclusively crafting small-lot wines, meticulously tending to our vineyard with passion. As proud members of the esteemed Regeneration Canada movement, we promote sustainable farming methods, holding the distinction of being a Certified Organic Vineyard. Each vintage, our focus remains on producing limited quantities of exceptional wines, such as our coveted 500 cases of Pinot Noir and a exclusive 150 cases of Rose of Pinot Noir.
At the heart of our winemaking process, Peter, our devoted winemaker, imbues our wines with his unwavering passion and meticulous craftsmanship. With a keen focus on bringing out the unique character of the grapes, he dedicates himself to every step of the intricate winemaking journey. Meanwhile, our esteemed CEO, Anita, oversees the seamless management of day-to-day operations, ensuring that our vineyard and winery tasks are expertly handled with utmost care and precision. Together, their hands-on approach nurtures the essence of our wines, reflecting a commitment to excellence in every bottle. The Scorched Earth Vineyard & Winery Family welcomes you to experience our authentic wines and terroir.
---
The Name
Replanting after the 2003 Okanagan Wildfires, we became Scorched Earth Vineyards. As a Certified Organic Vineyard, we continue to work by hand on all our vineyard tasks.
The Family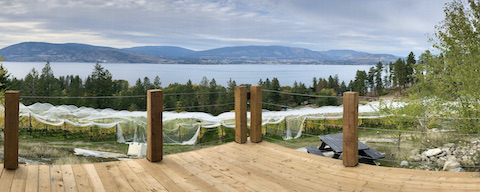 It is the family of Scorched Earth that has allowed us to grow into our boutique organic winery.